Vasectomy - Male Sterilisation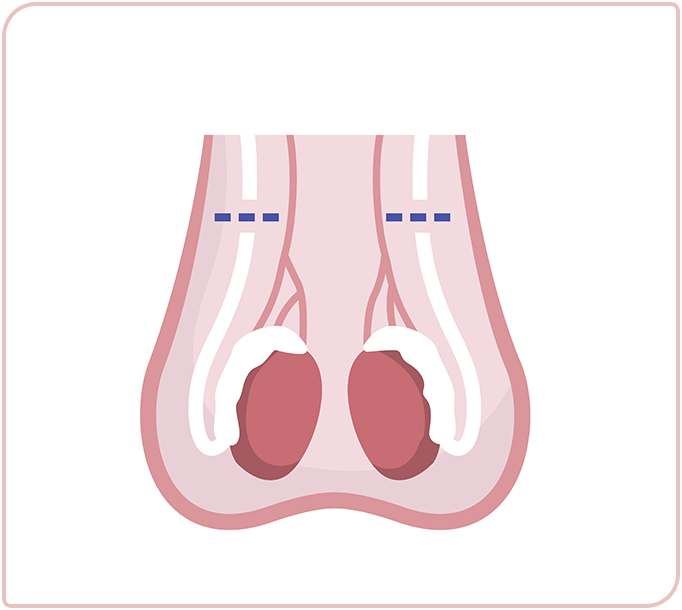 A Vasectomy, or Male Sterilisation is a small surgical procedure to cut or seal the tubes which carry a mans sperm to permanently prevent unwanted pregnancies.

This means that when a man ejaculates, the semen has no sperm in it and a woman's egg can't be fertilised.

A vasectomy is a quick and relatively painless surgical procedure. In most cases, you'll be able to return home the same day.

There are 2 types of Vasectomy, conventional (using a scalpel - surgical knife) and a no-scalpel Vasectomy.
It's possible to have a vasectomy reversed, but the procedure isn't always successful, if a reversal is carried out within 10 years of your vasectomy, the success rate is about 55%. This falls to 25% if your reversal is carried out more than 10 years after.

Even if a surgeon manages to join up the tubes again, pregnancy may still not be possible, so you should be very certain before going ahead with a vasectomy.
Please Note
Dr. Wagner does not provide this service. The information provided on this page is for education purposes.
Vasectomy or Male Sterilisation
How Effective Is It?
Pros
A vasectomy is more than 99% effective at preventing unwanted pregnancy.
It doesn't affect your sexual drive or ability to enjoy sex. You will still have erections and ejaculate normally, the only difference is that your semen won't contain sperm.
It's considered permanent, so once you have a Vasectomy, you do not have to think about contraception again.
Cons
It provides no protection against STIs, so you may still need to use condoms
It cannot be easily reversed.
Your scrotum may become bruised, swollen or painful & some men report ongoing pain in their testicles.
As a fully qualified member of FMH, Gynäkologie Suisse, E.S.A.G. & ISCG
Dr Wagner is highly qualified and has many years of experience, allowing her to offer first-class advice and treatment of the highest standard in her boutique practice in the heart of Basel.