Coil Clinic Basel
What is a coil clinic appointment?



A coil clinic is a special consultation with Dr. Wagner to deal with all aspects of the contraceptive coil.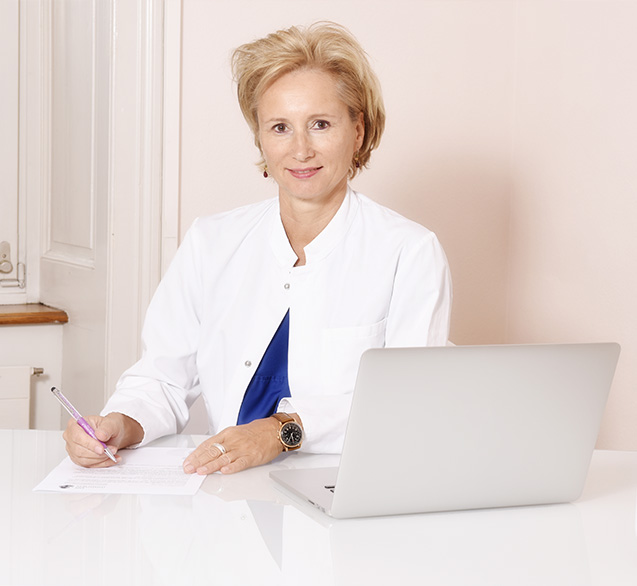 In a coil discussion, the pros and cons of the different methods, both hormonal and non-hormonal coil's will be explored, and your suitability for each method will be checked.

If you already have a preference, just let Dr. Wagner know, and your suitability for that method can also be assessed before progressing.
Once a decision is made regarding which form of contraception best suits, you can have it fitted expertly by Dr. Wagner. If you are concerned about discomfort or pain during the fitting, pain relief is available before fitting commences.

Coil replacement is also available during a coil clinic meeting, as is coil removal if you have decided to change to a different contraception method, aim to become pregnant, or simply wish to stop using the coil.
When booking your coil clinic appointment below, please indicate which areas you wish to address.
Dr. Wagner can then prepare accordingly.
During your clinic appointment you will be able to.

✓    Discuss your options for coil contraception

---
✓    Test for suitability between hormonal or non-hormonal

---
✓    Have a coil fitted

---
✓    Get your coil replaced

---
✓    Have your existing coil removed

What Will Happen At My Coil Clinic Appointment?
The appointment generally lasts for 20 minutes.
It is best not to bring children and there are no child-minding facilities in the building.
Frequently Asked Questions
About Each Different Coil

Brand Name
Effective Years
Hormonal
Cost
Mirena
6
✓
550CHF
Jaydess
3
✓
550CHF
Levosert
5
✓
550CHF
Flexi T
5
X
500CHF
Gold T
5
X
500CHF
Silver T
5
X
500CHF
Copper Coil String
5
X
500CHF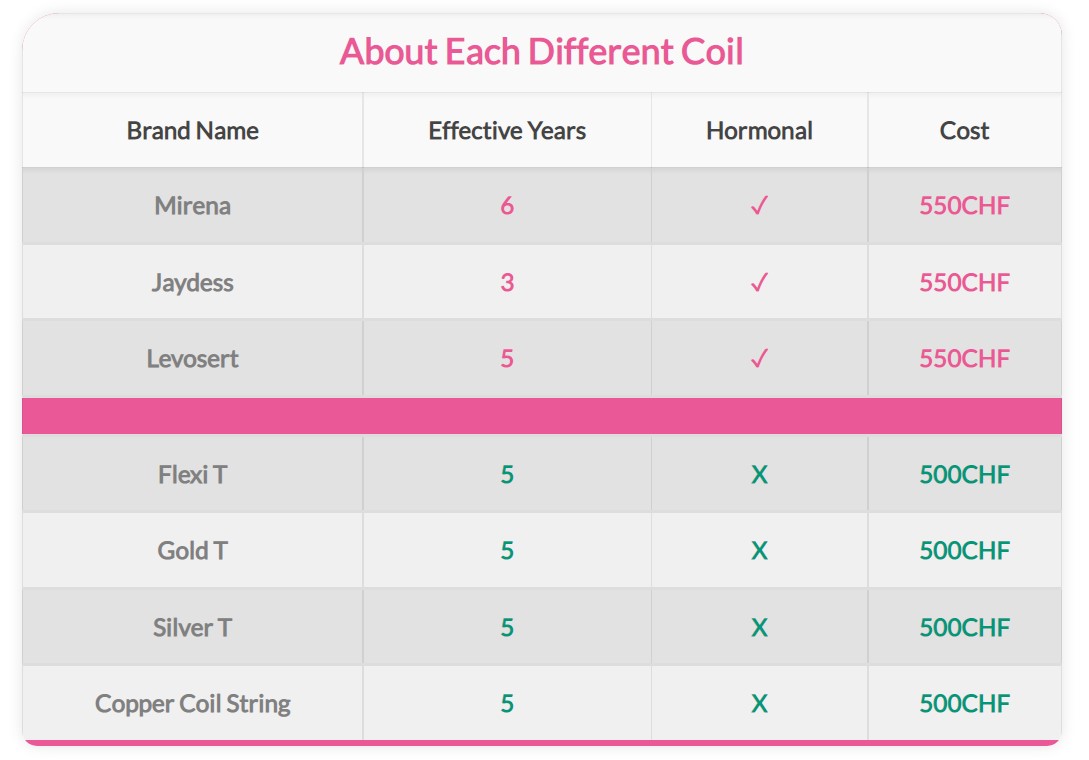 Request A Coil Clinic Appointment
As a fully qualified member of FMH, Gynäkologie Suisse, E.S.A.G. & ISCG
Dr Wagner is highly qualified and has many years of experience, allowing her to offer first-class advice and treatment of the highest standard in her boutique practice in the heart of Basel.